Archive | April 2014
Smart phones play a huge part in our lives. Every since I was a student I relied on the internet as a prime source of information ( I studied the big journals started to come online and a few first generation e-readers entered the market)
however the I-pad and I phone weren't an option for me, I think they came to fruition in my final year at university. Unfortunate because I think they may have changed the way I learned, I disliked lugging my 3 kg laptop to class, with a tablet it would have been far simpler to take notes, search the web and catch up on Facebook.
However since I have begun working in the Prehospital Field I have whole hardheartedly embraced tech and all it can offer me in the way of a knowledge repository.
I've been blown away by the response to my question on who uses a table/smart phone regularly in paramedic practice, people have been tweeting/sharing my question and some of the replies I've gotten have inspired me to grab a few new apps I'd not heard of.
A little on my set up, I use a Samsung Note 8.0 Tab and a Galaxy S4. These have been adequate, while I enjoy the format of the Android devices I don't enjoy the incredible amount of time it can take to get really good apps from IOS to Android.
In addition to the pictured Apps, Twitter, Beyond Pod for pod-casts, chrome for general internet browsing, a LITFL short cut, Kindle for a number of textbooks/must have prehospital papers, a hand full of games, pocket on both devices which allows me to save social media references and links for later viewing (no more…. wheres that paper on blah?).
Cleanliness is also a point, both my Note and S4 live in Life venture cases, which are waterproof and easily cleaned by alcohol swabs or in more extreme cases (ie, I googled something with my gloves on)
I used to have far more apps, however I gradually started trimming them down to the ones I used, I'm quite impressed with the QAS FRG v2 I wish we had something similar in NSW.
By far the most used "app" isn't even an app is the shortcut to LITFL http://lifeinthefastlane.com/ on my home screen.
Speaking of Life in the Fastlane, check out the tech tool Thursday page for some amazing medical apps.
Agile MD with the ALiEM PV cards is invalable for some quick study on the train or long car trips where I'm not driving, even when stuck in hospital corridors, best of all it and the content from ALiEM is free!
Show me what you use @jrparamed on Twitter I've already added a few apps off people recommendation. The tablets still fairly new so I'm also looking for must have apps for the prehospital provider.
Teaching is also another huge advantage, I use my tablet for patient education, I find it easier to diagram some concepts. I also have a number of apps on their for the inevitable transfer of the child with appendicitis to the children's hospital for surgery its a long, uncomfortable scary trip for them, I like to think popabubble and angry birds make it a bit easier, takes moms mind of comfort and allows her to make phone calls, sleep, regain her calm.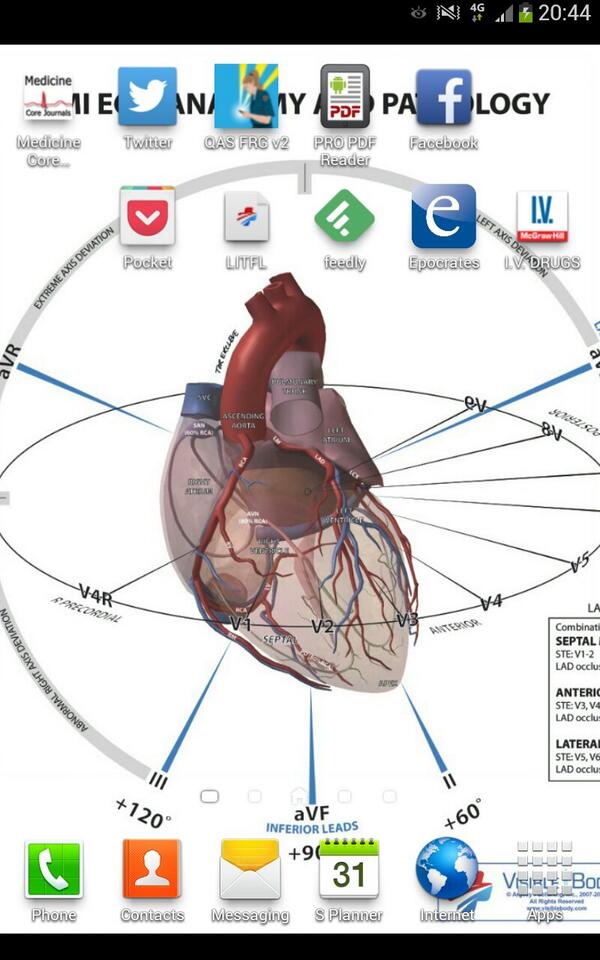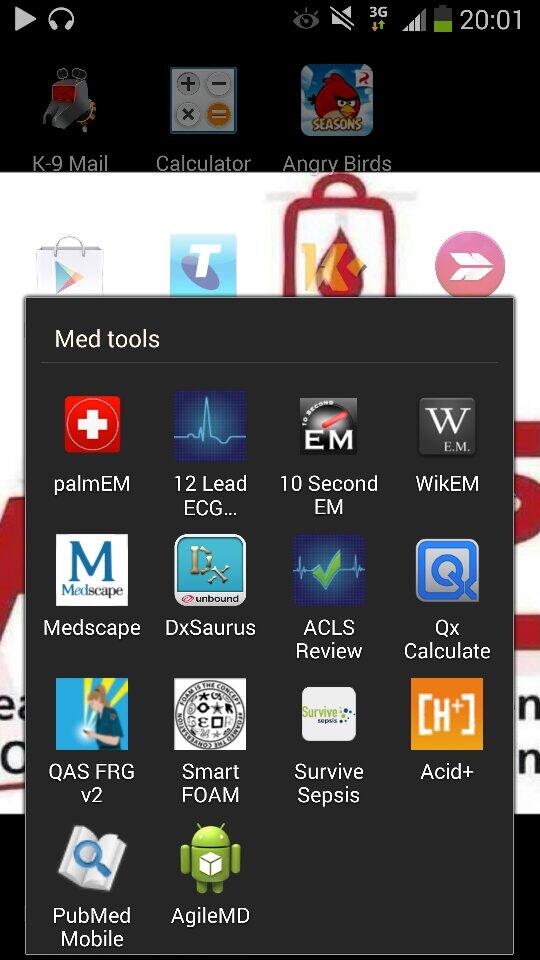 Could I just mention another advantage of the Smart Phone, Its a phone! Poisons Information a nice little phone call to make if you don't know what to expect, even just a phone call to make for some education on that particular medication. I've called poisons info a number of times and every time I do I learn something new.
Some say that the smart phone/tech has no place in practice, I personally think it has a place in practice with appropriate use, obviously sitting there texting your friends and taking facebook selfies is inappropriate but for looking up a condition or medication the patient can't describe to me, its a must.
I'll often preface pulling out my phone with a statement similar to  " I'm unable to recall that condition/medication, if you don't mind I'm just going to have a quick look on my phone" I don't know if patients appreciate this but I think its just plain manners.
No thus far has denied me phone use, in fact few have commended it, especially mothers who get a break from little Jonny while we drive up to the kids hospital.
I have no financial interests to disclose in relation to this post.